Started in 1923, H. Levenbaum Insurance Agency has been a part of the Dorchester community for nearly 100 years. Here's a picture from our original office in the old Murray's Pharmacy.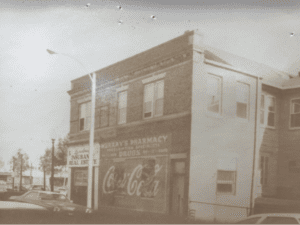 In that time, we've seen a lot change, but one thing is for certain: we're always here to help our community with their insurance needs! As one of the oldest and largest family-owned insurance agencies in Dorchester, we're proud of our long-standing reputation for excellent customer service.
In our office, we think that history is important — both the history of our agency and the history of Dorchester. When our owner Alan Issokson's grandfather Hyman started H. Levenbaum, he saw that many insurance carriers did not want to write insurance in Dorchester, concerned that it was too risky. Hyman insured everyone by providing insurance to all the people of Dorchester.
(Pictured: Hyman with his wife Lillian in 1985, and then NDEA director and current Boston Foundation President, Paul Grogan.)
For almost 100 years now, we've believed in having a high level of integrity when serving our local community. This has always been a well-deserving community with lots of hardworking people doing good work — and we will always be here for you.
While we try to stay true to our history, we also know we're living in the 21st Century. The future of communication is online, so we want to make sure we're right there with you on your phones and computers. #WeKnowLocal — Follow us on Twitter, Facebook, and LinkedIn for everything Dorchester! Major morning traffic slowing down commutes? We'll let you know before you head out the door! A big #MAsnow storm headed our way? We'll post the latest updates so that you can be prepared. We'll also be posting updates on local news and events happening around Dorchester because we know they matter to you.
When it comes to insurance, we think you'll be hard pressed to find an agency that's more connected, knowledgeable and driven to address the unique needs of its clients. We have our clients' best interest at heart, and are truly proud to serve such a deserving community like Dorchester. We're looking forward to connecting — and whether you tweet us, message us or pick up the ol' phone — you can always count on the #OldKidsOnTheBlock to be here for you!
Here's a picture of H. Levenbaum when it first moved to our 1534 Dot Ave location back in 1965.
We updated our facade back in the '80s. Note the sweet station wagon out front.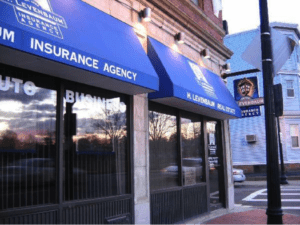 Here we are today! Stop by next time you're in the Fields Corner area!